So as we move into August work has begun on two projects in two very different contexts.  First of all though we're really pleased how two other projects have worked out and the feedback we're getting from the audiences for these.
The work we've been doing for Mantle Arts and their Voices from the Coalfield project has resulted in a series of short books and this podcast series that was recorded with a community cast in Loughborough.  This work has been based on a wonderful series of oral history interviews carried out in the 1980s and we're really pleased that we've been able to dig into this material to explore the life and culture of the post war community of Coalville and the surrounding villages.
Our work with Loros hospice has also come to an end with the writing and recording of a series of eight stories looking at issues around end of life care.  As well as being a really challenging subject to research and write about it's been a project with our most diverse cast to date – Sokari Erekosima, Jim Findley, Gurpreet Grewal-Santini, Violet Hais, Mufaro Makubika, Irfhan Ali Mururajani, Dipti Patel and Ling Peng.  We'd like to thank all of the readers for their sensitive handling of these stories which will be used as a training tool for those who are engaged with end of life care.  Here's one of the pieces, read by Irfhan:
So onto our two new projects, and the first is part of our ongoing work in India and a series of ten films set in Kerala that we've written the stories for.  These are for the MeHeLP project and are replacing the theatre project that has had to be cancelled because of the Covid situation in India.   Four of these are currently in production and we're working with Lokadharmi on turning these stories into scripts.  The first of these, The Cake, was filmed this week (July 30th and 31st), and will be followed by The Friend, The Make-up and The Bicycle.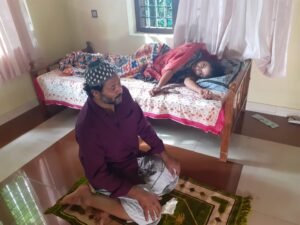 We're waiting to find out who will be filming the other six stories but are looking forward to collaborating with them.  All of these films explore issues of mental health in Kerala.
Here in the East Midlands we've started work on an ACE funded project in partnership with Inspire and Miner2Major. Sherwood Voices will work with communities across the heart of Nottinghamshire to create a series of seven walks and audio stories that will explore the culture and hidden histories of the region.  We're currently in the research phase of the project, with our Sherwood Storycards ready to land at libraries across the county and our team will be out and about talking to people and community groups and gathering stories over the next weeks.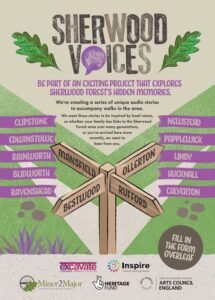 We've also recruited a new team of associates and are in the process of planning our first project as a team together, so will let you know more when those plans are confirmed.
That's it for now.  Have a good summer.