Saturday 21 November 2015  10am – 10pm
A community reading of B.S. Johnson's classic Nottingham-based novel 'The Unfortunates'. One map. Twenty five locations. Fifty readers. FREE
PLEASE CLICK HERE FOR UPDATES ON VENUES AND TIMINGS OF READINGS
But I Know This City! is a mass community reading of a radical novel set in Nottingham and published in 1969. The Unfortunates, by the experimental English author B.S. Johnson, is an internal monologue by a man who has been sent to an unnamed city to report on a football match. During his time in this city he remembers and reflects on previous visits here to see a friend who has since died of cancer. The city, clearly identified through its detailed description of landmarks, streets, restaurants and pubs, is Nottingham.
The Unfortunates is best known as being the 'book in a box'. Of its separately binded 27 chapters, only First and Last are titled. The 25 other chapters can be shuffled and read in any order. The permutations are colossal.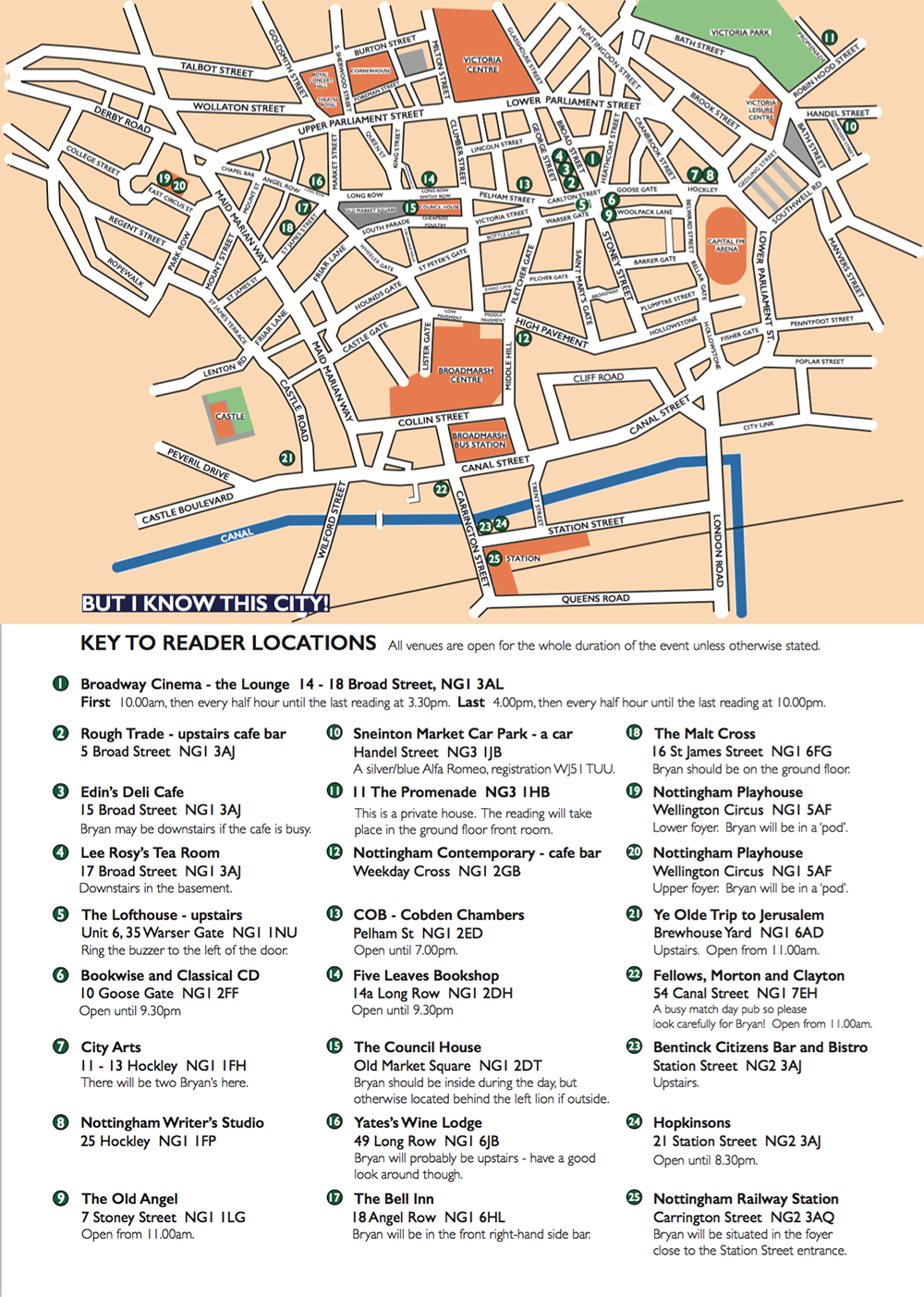 On Saturday November 21st, as part of the Being Human festival, you will be invited to join us and to create your own journey through the novel and through Nottingham. The event begins and ends at The Lounge in Broadway Cinema, where the First and Last chapters are read at various times as listed below. In between hearing these you are free to go to as many of the other 24 locations as you wish, to hear as many of the other chapters as you wish. Most of the chapters are between 2 and 7 minutes in length, and none are longer than 10.
All of the venues are detailed in the map which you can view or download as a pdf on this page.
PLEASE REMEMBER THAT ALTHOUGH THE LOCATIONS ARE NUMBERED ON THE MAP THAT YOU CAN NAVIGATE YOUR WAY AROUND THIS NOVEL AND THIS READING IN ANY ORDER.
In most locations Bryan will be easy to find, in others you may have to look a little. Bryan may be male or female, old or young, tall or short. We will make it as easy as possible to identify him/her. All you have to do is approach Bryan, sit down on the chair opposite (unless you are sitting next to Bryan in a car, or on a sofa in someone's house, or standing by a bookshelf) and the reading will begin. If you are unsure simply ask 'are you Bryan?'
If you arrive and Bryan is reading to another person you may either accompany the listener or wait until the reading that is underway is completed. If you do arrive when a reading of a longer chapter is in progress then our Bryans will try to let you know how far into the chapter they are by having the text of the chapter in front of them which they will turn over as they read; allowing you to make an educated guess as to how much ahs already been read. You can always listen to the rest of the chapter and then stay for the first part of the next reading. If there are a number of people waiting Bryan may read his/her chapter to you as a group.
You should be able to navigate your way around the whole novel in around four to five hours, with the reading lasting around one hundred minutes. In some of the spaces we will have control of everything that happens around Bryan, in others the outside world may intrude in unexpected and unforeseen ways. Many of the venues serve food and drink, although you are not obliged to buy anything at all.
Most of the readings are at ground level with easy access. If there are stairs to be used then this is detailed on the map.
Enjoy your journey around this wonderful novel that conjures up a Nottingham of nearly fifty years ago; a novel which begins with the words 'But I know this city!'
To launch this event Broadway will be screening a selection of B.S. Johnson's short films on Friday 20 November at 8.45pm. We are delighted to announce that this will be introduced by Johnson's biographer, the celebrated novelist Jonathan Coe (who has recorded the chapter for venue 5, The Lofthouse, which may alternatively be heard here)
First and Last chapters – no booking required, simply turn up at the Broadway cinema where you will follow signs to the Lounge. There is a capacity of 20 people per reading for these sections.
First – 10am / 10.30am / 11am / 11.30am / 12pm / 12.30pm / 1pm / 1.30pm / 2pm / 2.30pm / 3pm / 3.30pm
Last – 4pm / 4.30pm / 5pm / 5.30pm / 6pm / 6.30pm / 7pm / 7.30pm / 8pm / 8.30pm / 9pm / 9.30pm / 10pm
Team
Adaptation / Direction / Production – Andy Barrett
Graphic design – John Hewitt
Visual design / Assistant direction – Julia Locascio
Readers – Kath Akers / Mat Anderson / Sara Anderson / Ria Angela / David Belbin / Alice Bell / Loree Bologna / Andrew Breakwell / Maggie Burrows / Rachael Caulton / Tony Challis / Trev Clarke / Jonathan Coe / Steve Conlin / Sue Dymoke / Michael Eaton / Sandy Edwards – Walsh / Matteo Everett / Courtenay Ferris / Floyd Ferris / the staff of Five Leaves bookshop / Richard Garton / Rick Hall / Tim Harris / Arwa Hasan / Matt Harvey / John Hewitt / Phil Hughes / Holly Humphreys / Matthew Huntbach / Ayse Huseyin / Roger Knowles / Jenny Jordan / Leo Lanzoni / Andrew Martin / Judie Matthews / Mavis Moore / Gareth Morgan / Colin Morley / Jez Noond / Ben Norris / David Owen / Nick Owen / Sandy Peet / Gordon Ramsay / Mark Ramsey / Melvyn Rawlinson / Robbie Robb / Katie Roberts / Jo Robinson / Sylvia Robson / Sharon Scaniglia / Madge Spencer / Ange Taggart / Sarah Tutt / Michelle Vacciana / Yvonne Varnier / Jem Woolley / Xiaofan Xu
Additional recorded voices for sound montage (from near and very far – keep them coming!) –  Leon Berger / Tilly Branson / Eva Danickova / Peter Dyson / Graham Elstone / Rachel Erickson / Rob Fox / Ionut Grama / Marina Hanganu / Amanda McLaren / Becka McFadden / Noelle Mischenko / Emmy Newman / Alistair Park / Philip Parr / Nerys Skitt / Ramya Thiyagarajam / Will Weigler