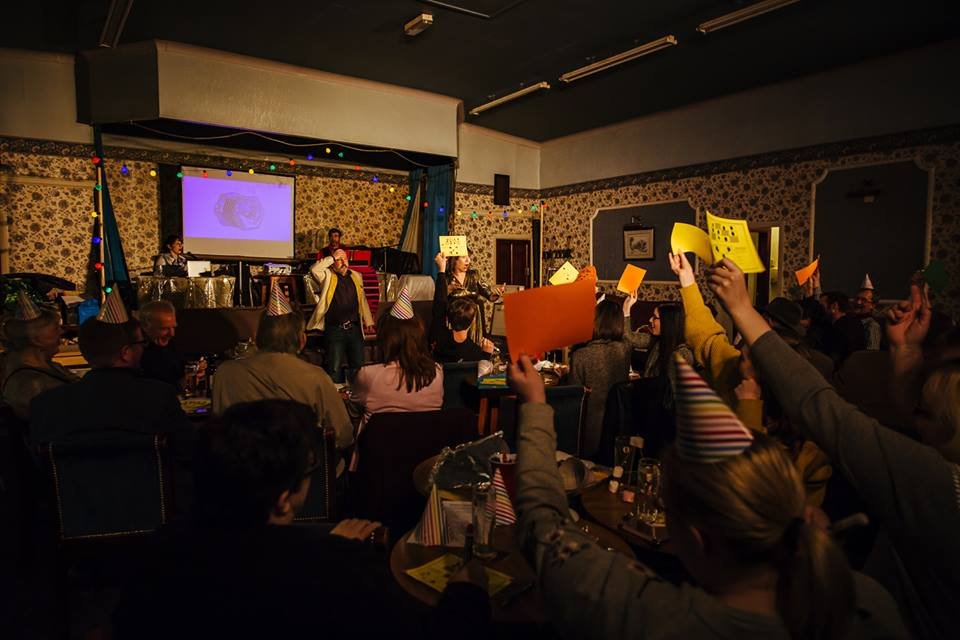 And so 2017 is just about done and dusted and we thought we should just recap what we've been up to over the last twelve months.
It all started with the premiere of In Flux at City Arts in January, before we toured it across Nottingham (as well as a show in Wolverhampton as part of the Artsfest). We raised a fair amount of money during the performances which was used by the Red Cross Tuesday Night Group to buy guitars for refugees and asylum seekers to use.
In March Andy travelled to Rotterdam with other members of the East Midlands Participatory Arts Forum to the wonderful ICAF, not to present or to report on community arts work as on previous occasions, but to sink in to the incredible array of performances and workshops from across the globe (although there was some cajon playing with The Henry Girls on the final night).
Over the Spring we worked on Barbeque 67 Revisited which was premiered at the South Holland Centre on election night (June 8th) and then went on a short tour. An audio visual exhibition was created that also toured around Spalding later in the year, including at Uptown Vinyl Records, the perfect place to discover the incredible stories that we managed to uncover about one of rock music's most unexpected moments.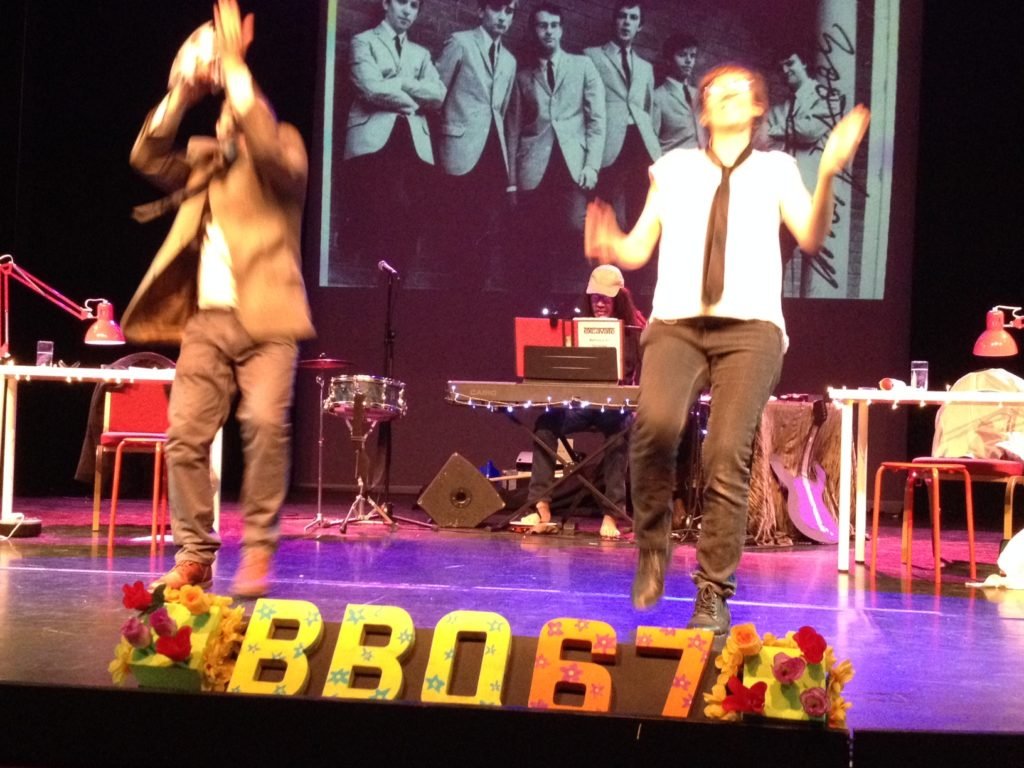 Pretty much as soon as that was over we started work gathering stories for The Right Up Our Street Bingo Bonanza! which we performed in labour clubs around Doncaster over October and November with a very pregnant Hannah Stone going full tilt in what was a hugely energetic and well received (and frankly slightly insane) show. With Matt Marks playing a huge variety of music throughout, and Excavate newcomer Ria Ashcroft taking the place of Nottingham Roosevelt Scholar Gareth Morgan who was travelling across America.
October also saw Elaine Pantling perform Alice In Her Shoes to a full house at the Curve studio, a hugely emotional performance with a live choir that examined the history of the Leicester suffragette Alice Hawkins, that we helped Elaine to develop and write.
The Autumn saw us having to move out of store that has been so kindly provided by the Theatre Royal (as they need it to store the giant puppets that they will be making as part of Nottingham's first Puppet Festival), with the result that we've relocated some of our larger props across a range of organisations (and had to take a chainsaw to a very large and heavy and rather beautiful stocking frame). Our many, many costumes have been gratefully given a home by the incredibly hard working Nottingham Community Wardrobe who have given them a good clean and airing and will look after them much better than we were able to (and will let us use them when we want).
November was also the month that our work with Leicester De Montfort University in Pune, India began with a week of planning and site visits, and a wonderful evening with Swatantra Theatre who performed their most recent play for us at their outdoor theatre in the beautiful Shri Vasupujya Swami Jain temple complex where they are based. We'll be making a community play with the company over the next year that will go on to tour to a number of slums in the city in 2019.
The final performance of the year that we were involved in was a rather incredible performance of Remembrance by Ian Sharpe and a small community cast at the Broadbent Theatre in Wickenby. With Rufus Norris and Damon Albarn in attendance, and Jim Broadbent running a Q&A with the cast afterwards, it was a tantalising glimpse of what we hope may turn into a wider partnership next year.
And December's work concluded with meetings about The Rutlanders Return, a project that we will be producing with Arts for Rutland next year; and Three Doors Down, a project in Aspley with Creative Nottingham North, both of which you can find out about here.
It's been a year that has mixed really energetic and fun performances with work that has dug deep into some more serious issues, and which has also continued our ongoing search for production partners that will allow us to take our work to new and unexpected audiences. And also one that has set us up well for 2018 and through into 2019. It's also been one that saw the death of Ann Jellicoe, the news of which we heard just a couple of days after Andy had spoken about her work at the Theatre as Performance Research Assocation conference in Salford.
We'd like to thank everyone who worked with the company in any way, either as a paid artist or as a volunteer or someone whose story was shared with us. We'd like to thank the commissioning bodies and groups and companies that engaged with us over 2017. And, of course, we'd like to thank everyone who came to see what we were up to.
Have a great Christmas season.
Cheers x